News Article
Time for a Refresh!
3 min read
September 26, 2023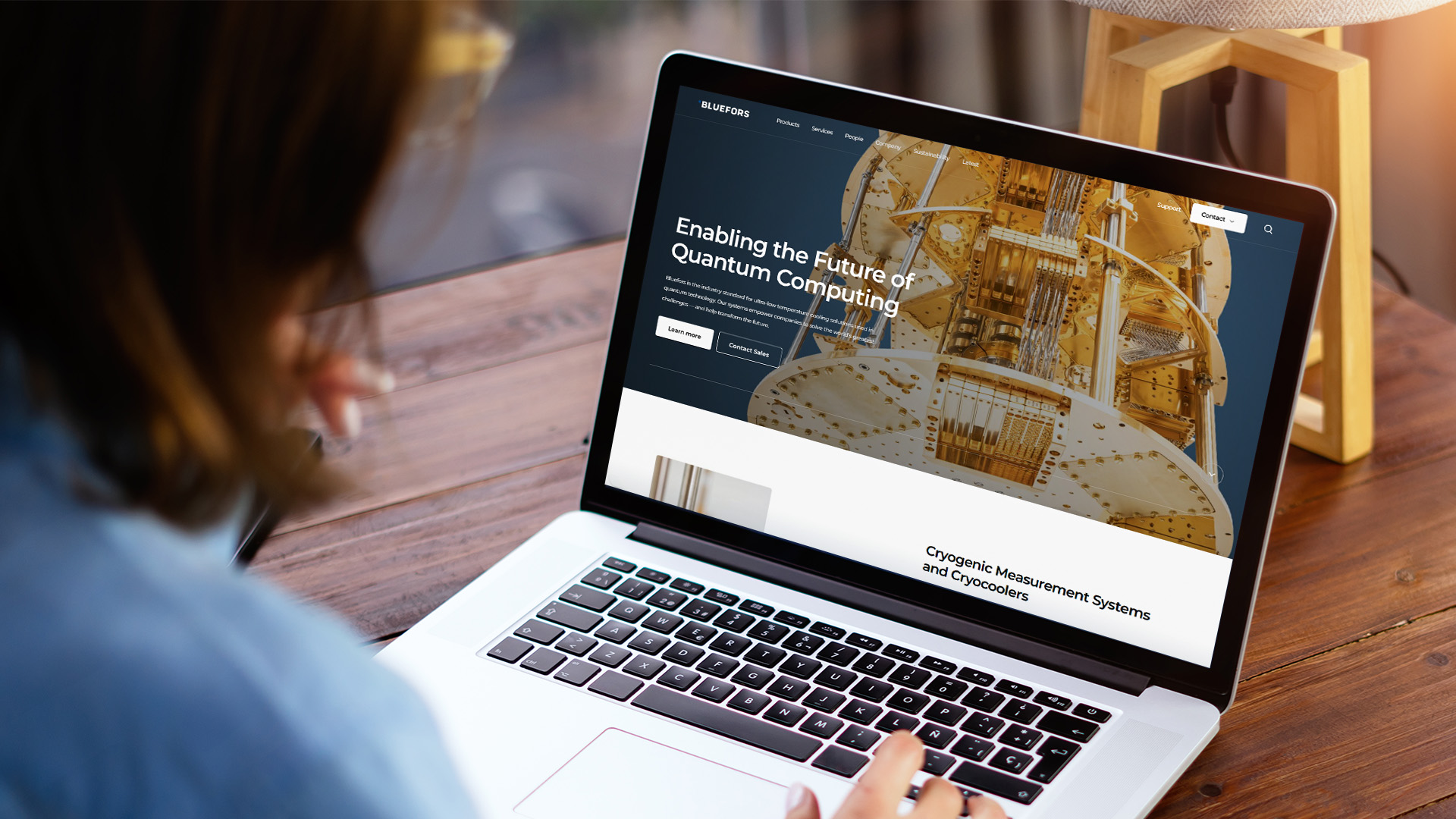 Bluefors has grown a lot in the last 15 years. With our expanding product portfolio, and with one eye on the future, we felt it was time to refresh the way we present ourselves online. But most importantly, since Cryomech joined Bluefors in March 2023, we needed more than a simple website refresh; we wanted a new space to showcase the value and complete range of products we now offer to customers all over the world. 
Bluefors and Cryomech Products — Together 
For the first time, our new website unites the Bluefors and Cryomech brands. Going forward, you can find all the product information for both brands in one place: bluefors.com. 
By uniting our brands under Bluefors, we're able to offer a comprehensive range of cryogenic products to take you from room temperature to the coldest temperatures on the planet, from Cryocoolers to Dilution Refrigerator Measurement Systems and cryogenic systems of all shapes and sizes. 
With Bluefors and Cryomech under one roof, our range of products has greatly expanded — as the 95+ product and options pages illustrate. As well as providing more information about our products, the new site also highlights how products can be customized to meet the specific needs of any experiment or application.
Even with Cryomech now a part of Bluefors, Syracuse continues to be the home of Cryomech production, and also directly serves Cryomech customers with sales and service enquiries. To that end, we've also made getting in touch with the relevant teams more straightforward. You'll find easily accessible contact forms for sales and support, each of which are separated by product brands and offerings, so you'll always reach the right contact person. 
More Sections. More Information.
As Bluefors continues to grow, we've also expanded the information about our various locations around the world. In our renewed People section, you can now read about Bluefors culture, and the different work taking place in our offices and facilities in Finland, the US, the Netherlands, Germany, and Tokyo. 
Naturally, we now offer a centralized list for all job openings across all locations on the one Open Positions page. So whether you're looking for work in Syracuse, Brooklyn, Tokyo, Delft, Munich or Helsinki, you'll find relevant roles, easily searchable and filtered by location.  
We've also put a deeper focus on Sustainability, with pages looking at our commitment to Quality, Environment, Social Responsibility, Governance & Ethics. Bluefors is committed to making a positive impact on the world and caring for our global community. By prioritizing sustainable practices, we aim to ensure the quality of or products, minimize our ecological footprint, take care of our employees' wellbeing, and uphold ethical business conduct. 
This commitment also extends to our suppliers and partners. If you're interested in working or collaborating with us as a supplier, we'd love to hear from you. 
Feedback Loop in the Cool Pipeline 
As you browse through the new site, you'll also see that you can now give us feedback via the Feedback page. We always aim to improve our processes and products, so if you encounter any issues while interacting with us, or want to provide any general comments, we appreciate the feedback. Also, if you happen to experience any bugs that we missed while building the site, please do let us know.  
We're proud of our entire team at Bluefors, and look forward to continuing to develop and deliver cool products, and tell you all about them on the new website.
We have a lot of exciting news to share the coming months – so keep an eye on the Blog to stay up-to-date on the latest Bluefors and Cryomech stories.