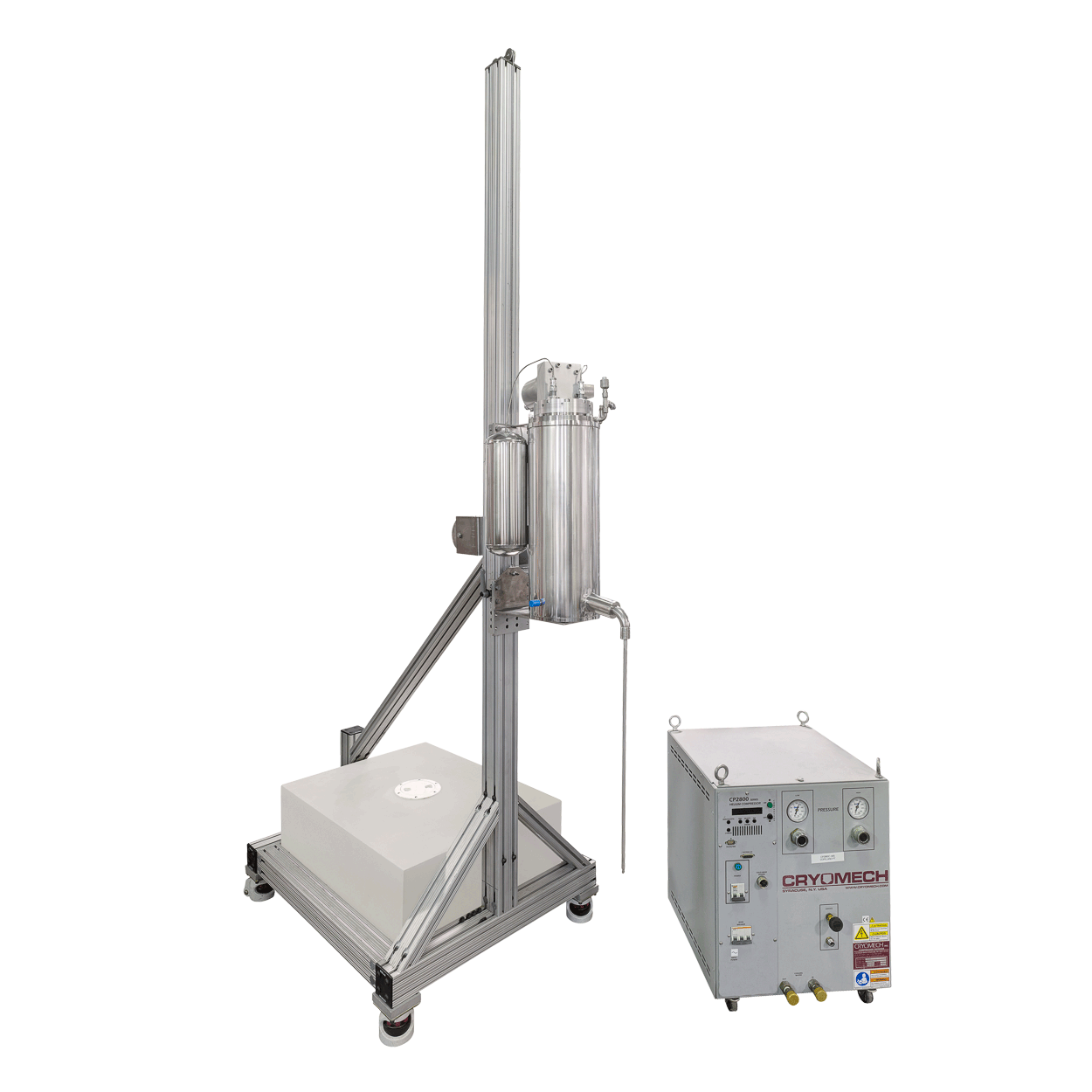 Helium Reliquefiers
Helium Liquefication
Helium Reliquefiers are intended for helium recovery from a single helium-consuming device.
Cryomech Helium Reliquefiers are designed to recondense the boil-off from liquid helium Dewar/Cryostats, returning the liquid helium to the Dewar/Cryostat to establish a closed helium loop.
The Reliquefier can be installed into Dewars filled with liquid helium or be utilized to liquefy helium gas from a gas cylinder to fill a Dewar.
Reliquefiers have been proven to integrate seamlessly into many different Cryostat designs. We have developed reliquefiers for use with highly sensitive MEG magnetometers, MPMS, PPMS, MRIs, NMRs, superconducting magnets and dilution refrigerators.
Helium Reliquefiers Models
---
Cooldown time for all Helium Reliquefier models is less than 4 hours.
Model (Click to learn more)
Liquefication Rate
Reliquefication and Recondensing Rate
Cryocooler Model
Power Consumption
HeRL10
≥10L/Day
≥18L/Day
PT410/CPA289C
8.4kW @ 60Hz
7.9kW @ 50Hz
HeRL15
≥15L/Day
≥27L/Day
PT415/CPA1110
10.7kW @ 60Hz
9.2kW @ 50Hz
HeRL20
≥20L/Day
≥40L/Day
PT420/CPA1114
12.5kW @ 60Hz
11.4W @ 50Hz
HeRL40
≥40L/Day
TBD
PT420/ CPA1114 (2)
12.5kW @ 60Hz
11.4W @ 50Hz
HeRL60
60L/Day
TBD
PT420/ CPA1114 (3)
12.5kW @ 60Hz
11.4W @ 50Hz
Options
Custom Options
Scientific research often requires specialized equipment that has never been built before. We fully understand this, and are happy to build customized solutions for our customers and their unique applications.
Commonly provided customizations include:
Conflat Flanges
ISO Flanges
Gas Feed Throughs
Electrical Feed Throughs
Recondensing Heat Exchangers
Gas Pre-Cooling Tube