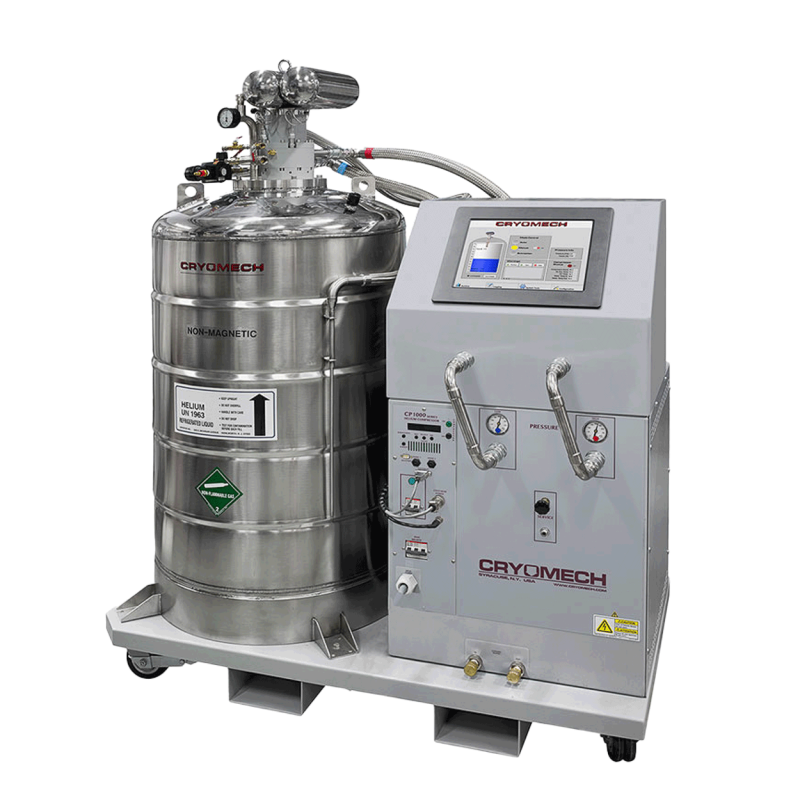 Liquid Helium Plants
Helium Liquefication
Cryomech Liquid Helium Plants allow users to liquefy helium from any room temperature source.
Do you have multiple devices using liquid helium or various users who share resources? A Cryomech Liquid Helium Plant (LHeP) with the Helium Recovery System can be configured to meet your needs.
Liquid Helium Plants allow the user to liquefy helium from any room temperature source, enabling laboratories to manage their own liquid helium consumption and conservation. With a Cryomech Helium Recovery System, facilities with several Cryostats with different boil-off rates can use one Liquid Helium Plant.
Cryomech has over 15 years of experience designing, developing and manufacturing closed-cycle 4K Pulse Tube Cryocoolers (PTRs), the fundamental technology behind all Cryomech Helium Liquefiers. Using Pulse Tube Cryocoolers gives longer mean times between maintenance cycles and dramatically cuts the costs of operation and ownership.
Cryomech Liquid Helium Plants are also customizable with additional ports, modified Dewar necks and custom high-efficiency extraction lines.
Liquid Helium Plant Models
---
Options
Custom Options
Scientific research often requires specialized equipment that has never been built before. We fully understand this, and are happy to build customized solutions for our customers and their unique applications.
Commonly provided customizations include:
Conflat Flanges
ISO Flanges
Gas Feed Throughs
Electrical Feed Throughs
Recondensing Heat Exchangers
Gas Pre-Cooling Tube