News Article
Jonas Geust Becomes Bluefors CEO
2 min read
October 2, 2023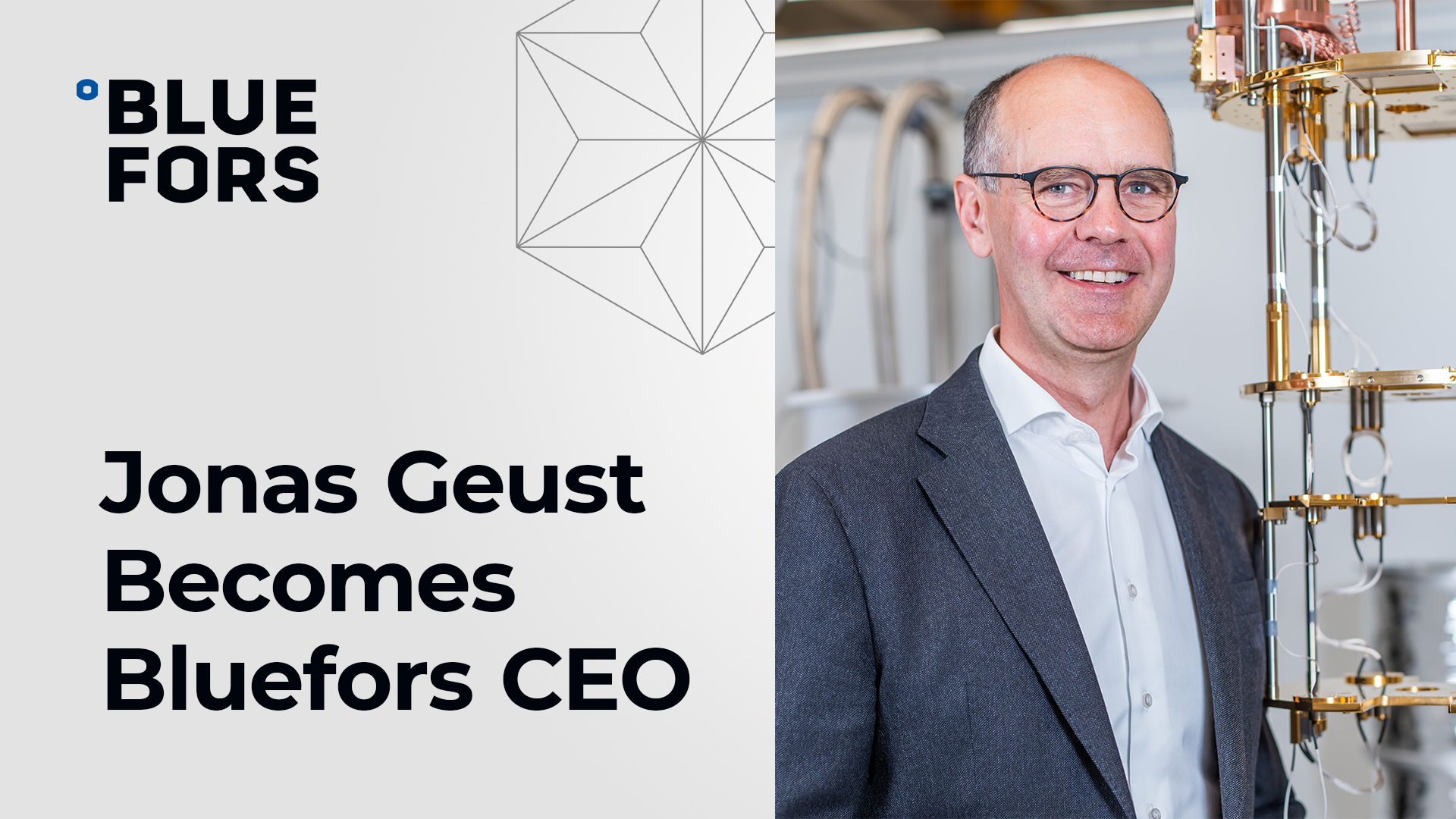 After 15 years as CEO, Bluefors' co-Founder, Rob Blaauwgeers, passes the baton to Jonas Geust, effective 1 October 2023.
Natural Leadership Continuity
Since Bluefors was founded in 2008, the company has grown rapidly into a global market leader in the quantum technology revolution. In his role as CEO, Rob Blaauwgeers has been instrumental in building the company, defining our strategy, and helped realize our mission to empower companies and researchers to solve the fundamental questions using ultra-low temperature innovation.
Combining the role of CEO with that of research and development is not easy, especially when the company is growing so fast. Over the last year, much of the day-to-day operations of Bluefors have been managed by our COO and Deputy CEO, Jonas Geust.
Today we are announcing that the Board of Directors has formally approved Rob handing over his CEO duties to Jonas, effective 1 October 2023.
"Jonas has done a fantastic job leading the company in a fair and professional way and it feels easy to hand over this responsibility to him."

Rob Blaauwgeers, Founder
Jonas's role as CEO is a natural development for Bluefors. He will step in to lead the company with the same sound guidance that he has displayed leading our operations over the past year, making this transition more of a formality, without the need for any structural or significant changes to our business practice.
"I am immensely grateful to have had the opportunity to guide Bluefors' operations over the last 12 months, and humbled by the trust that the board has given me in taking on the role of CEO. My goal going forward is to continue to realize our mission of empowering scientists and industries to solve the world's biggest challenges with the help of Bluefors' ground-breaking products. I truly believe that Bluefors has a great future ahead in the quantum space, and look forward to our continuing growth and success in fulfilling our customers high requirements."

Jonas Geust, Chief Executive Officer
Jonas Geust has a long history as an executive in cutting-edge technology. With a B. B.Sc. Engineering from the Institute of Technology, Helsinki, and a Degree in Econ from Norges Handelshøjskole, Bergen Norway, Jonas has held executive positions at Nokia, was CEO at Rightware, and President of Patria Systems before joining Bluefors.
Rob Blaauwgeers Continues at Bluefors as CSO
Rob Blaauwgeers will move to focus more on Bluefors' strategic development as Chief Strategy Officer, also effective 1 October 2023, and will spend more time working on his specialist area of cryogenics.
"I want to focus on the strategic side from a cryogenics perspective, working more with what I know best— for example, developing new systems and ways to control them, as well as product harmonization."

Rob Blaauwgeers , CSO & Founder
Rob will continue to work in the background, supporting and reporting to Jonas Geust, providing help wherever his years of experience are needed. As former CEO, Rob reassures us he will continue to keep giving everything he has in support of building a bright future for Bluefors.
To find out more about our Leadership Team and Board of Directors, check our new website's Company pages.