Story
Celebrating 15 Years of Cool Technology
7 min read
March 17, 2023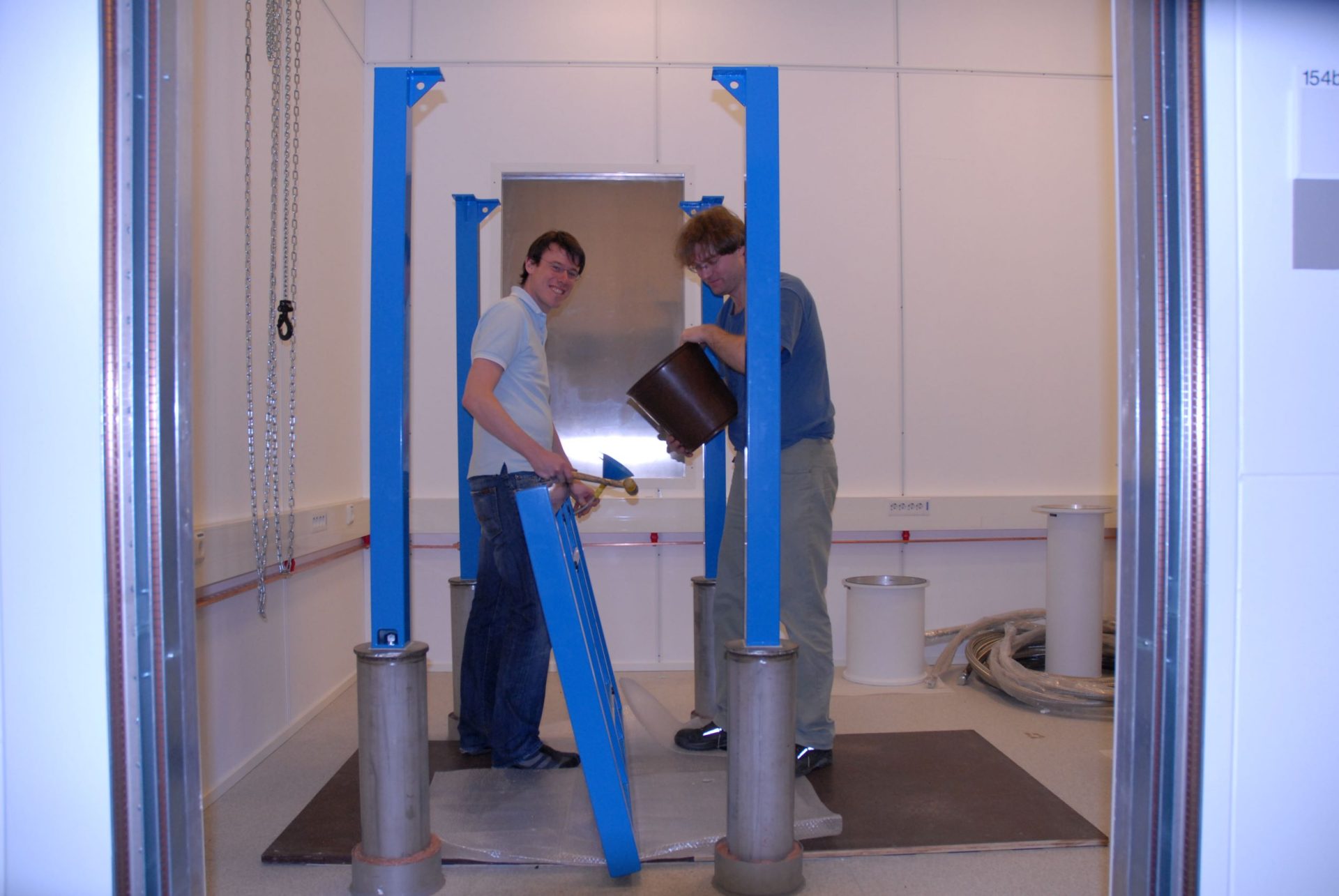 March 17 is a special day, as this year it marks the 15th anniversary of Bluefors. It's an opportunity to take a short look of our past and look firmly into the future.
Bluefors was founded in 2008, and since then we have shared an exciting journey together with our staff, customers, partners, and the global research community. We have very skillful staff serving world-leading experts from a variety of fields with variable traits, and we have been engaged in countless captivating discussions and encountering with the community. The field is always evolving, which kept us developing and evolving our offering to suit the emerging requirements. The years comprises numerous accomplishments, but let's get back to where it all started.
It All Started at the Low Temperature Lab
Bluefors was born from a worldwide interest in the newly developed fully automated dilution refrigerator by Rob Blaauwgeers after being appointed in 2005 by the Low Temperature Laboratory at Helsinki University of Technology. One of his tasks was to construct a versatile, fully automated gas handling system capable of working in combination with all the different dilution refrigerator systems in the lab. At the same time, Rob started to develop the first cryogen-free dilution refrigerator system for the lab.
The next year, the newly developed gas handling system underwent first tests in combination with the first prototype of the cryogen-free ("dry") dilution refrigerator system. It was simple and easy to operate this new, fully automated system as compared to a conventional "wet" dilution refrigerator, which requires manpower. This development and the great interest in it led Rob to thinking it might be worth commercializing these systems, so he contacted study friend and cryogenic engineer Pieter Vorselman. Together they optimized the system, and in 2007 the first automated cryogen-free dilution refrigerator system was taken into use by the NANO group of the Low Temperature Lab and shortly after, in March 2008, BlueFors Cryogenics was founded.
The company is today known as Bluefors Oy and the name 'Bluefors' reflect the founders' names, Blaauwgeers and Vorselman.
Bluefors is now a world leading manufacturer of cryogenic measurement systems serving customers in quantum technology, fundamental physics research, and other select industrial applications.
Customer needs shaping our journey
What has pushed us further in our journey, have been the numerous needs and requests of our customers. Where there has been a challenge, we have sought to answer it by developing a solution for it. Our products are the result of asking "can this be done?". There are countless stories to tell about the development of each one and we wanted to highlight one here.
A special request was done by the team at the Johns Hopkins University. They wanted to make unique measurements of the Cosmic Microwave Background, to further the understanding of how the universe began and what actually happened there. To measure the properties of it, they needed to design a special kind of telescopes to be used by CLASS – Cosmology Large Angular Scale Surveyor. The detectors of these telescopes also required a specialized cryogenic solution.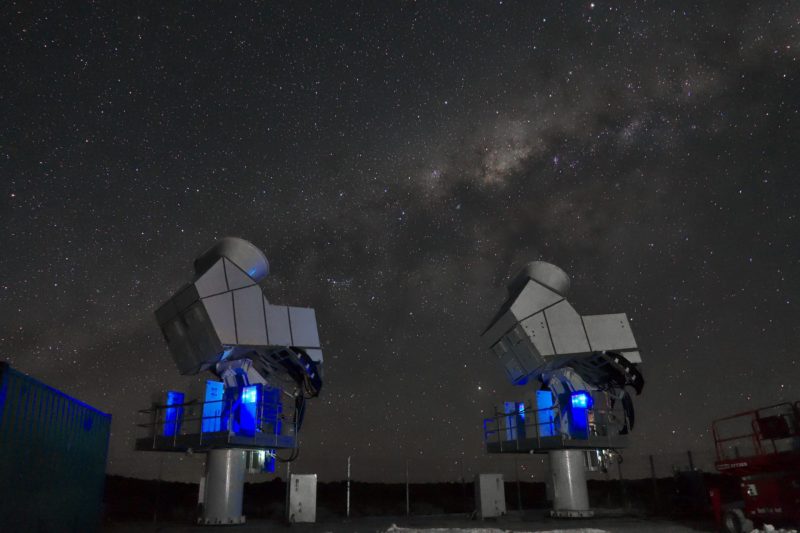 The group at the university had a vision of what they needed from their telescope. Those requirements meant that the dilution refrigerators used to cool the detectors needed to be large and for example tilt on their axis. We didn't have a ready solution for this purpose, but we were excited to take on this challenge and create one for this purpose.
While a regular LH System is an ideal solution for detector experiments, the extreme angles the CLASS systems needed to tilt were a novelty. As a dilution refrigerator's mixing chamber needs gravitation to work and the pulse tube's operation changes at different angles, the challenges to solve were different compared to a system being horizontal in a stable manner.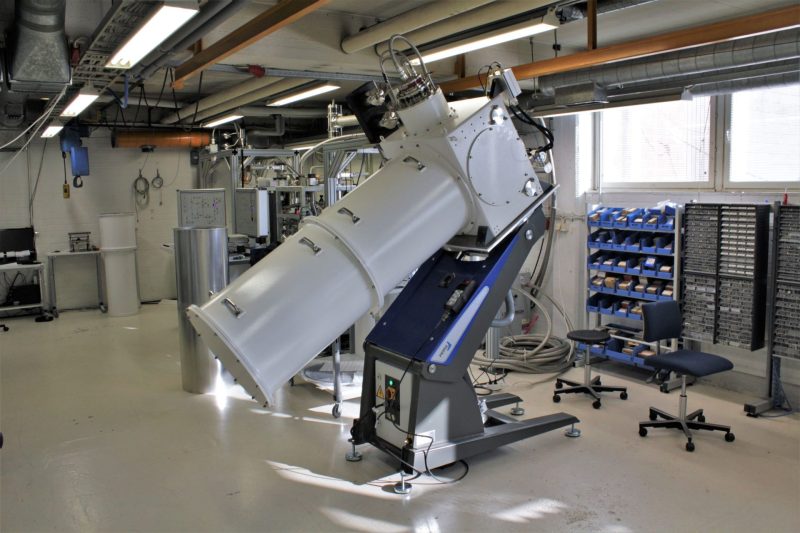 We had some assumptions on how we could make it work. To test them, we attached a system to a welding robot to tilt it and test the operation at different kinds of angles. While it offered a way to simulate the conditions it would have to operate in, some additional challenges rose from the robot being quite unstable and requiring a lot of different counterweights to balance the system. Despite that, we were able to test the system with this setup and validate our assumptions.
In the end, this development led to the finished systems, which we delivered for the telescopes of CLASS. It is just one example of how the varied needs of our customers have contributed to the development of cryogenic measurement systems, when we have wanted to ensure the success of their experiments.
Continuing To Bring Progress
We've come far and joined paths with many customers, members of staff, and partnerships. Our mission is to enable the quantum technology breakthrough, to support scientists and industries to go further, to allow new innovations, and to grow and care for our global community.
2023 is a major milestone for our company. That is thanks to the daily work of our soon to be 600 employees in Europe and the US who work close to our customers and global community to keep driving our growth strategy forward. We thank all the people who have pushed the ultra-low technology sector to become an industry. It is because of those efforts, that innovations at the scale of KIDE Cryogenic Platform, capable of housing 1000 qubits, are possible. We would like to express our gratitude to all our customers who utilize our ultra-low temperature cooling technology.
We look forward to continuing the journey of success and experience the next 15 cool years with all of you!